Press
WHAT PEOPLE ARE SAYING ABOUT LAIKA'S ADVENTURE
WHAT PEOPLE ARE SAYING ABOUT PANDEMIC 1.0
Pandemic 1.0 made use of mobile, online, real world experiences, data visualization, social gaming, print and interactive toys to tell its story.
PANDEMIC 1.0 IN PRINT
To read click the image
WIRED MAGAZINE UK – COVER STORY
Lance is recognized as one of the pioneers of transmedia. To read the cover story click the image.
"One of twenty-five people helping to re-invent entertainment and change the face of Hollywood." – WIRED MAGAZINE
"One of the eighteen who changed Hollywood."
- BUSINESSWEEK
"Game changers like Lance Weiler, a D.I.Y. visionary whose 1998 mock documentary "The Last Broadcast," directed with Stefan Avalos, was the first movie released in theaters digitally, understand that younger audiences can't be reached the way that their Fellini-loving grandparents once were. Younger audiences might not be more active moviegoers than their grandparents (watching a film is never a passive experience), but they live in an interactive, media-saturated world. These days "everyone is his or her own media company," Mr. Weiler wrote in Filmmaker Magazine. "With the push of a button they can publish, shoot or record and moments later it can be online for the world to see." This audience, in other words, has its own D.I.Y. ethos, and sometimes can be part of a movie's creative process. The major studios certainly are paying attention to what Mr. Weiler and other do-it-yourselfers have to say."
Lance wins the Arte Cinema Award for his newest project HiM
HiM one of 12 projects invited to Sundance Screenwriters Lab
PAST PRESS
WIRED MAGAZINE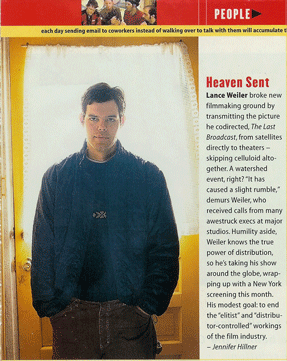 RUE MORGUE MAGAZINE
names HEAD TRAUMA best indie feature of the year
click image to read article

The HT cinema ARG events have been a smashing success. Over 84% of the audience use their mobile phones during the screenings to interact with the movie.
What people are saying about the HT cinema ARG events:
click here to read what Wired had to say about the event
click here to see additional coverage about the event.
WHAT PEOPLE ARE SAYING ABOUT WEILER'S HORROR 2.0
"Can things possibly get more intense from here? Of course. Horror 2.0 stalks the MoMI with indie auteur Lance Weiler's multimedia expansion of his psycho-chiller Head Trauma: Audience members will receive menacing text messages and cell-phone calls, some even after the show. "I want to disturb people," Weiler admits in what sounds like a motto for our times. Slashing at apathy, this is a genre whose dire warnings we ignore at our peril. One way or another, horror follows us home."
- THE VILLAGE VOICE
"Lance Weiler's first film, The Last Broadcast, often called the original Blair Witch Project, was shot for less than $1,000. Yet it grossed $4.5 million and became the first film to be transmitted via satellite directly to theaters. His encore? A traveling live-music mashup involving cell phones, big screens, indie rockers and meandering actors… This is one of the only films where you'll be asked to keep your cell phone on during the screening," says Weiler.
- WIRED
"Director Lance Weiler has created a "remix" presentation of his cult indie horror flick Head Trauma, the result of which sounds like a good approximation of the future of film. As theaters increasingly compete with home entertainment, we believe live film presentations such as this could be a way to keep audiences going out to movies."
- TREND CENTRAL
WHAT THE CRITICS ARE SAYING
One of the Best Indies of the Decade
CINEMATICAL
TOP 10 MENTIONS - pdf
FULL REVIEWS - pdf
PULL QUOTES - pdf
PAST PRESS COVERAGE - pdf
Best Independent Feature Film of 2006
RUE MORGUE MAGAZINE
One of the top 10 cinematic experiences of 2006
TWITCH FILM
"Any number of big-deal filmmakers – M. Night Shyamalan, for one – would be well-served by a viewing of the low-budget Head Trauma. …this simple and effective psycho-thriller creates a mood of dread and dissociation, and sustains it, without resorting to elaborate special effects, or a colorful crowd of actors, or otherworldly mystical hooey." 3 out of 4 stars
- PHILADELPHIA INQUIRER
"Like the films of Polanski and Nicolas Roeg, Head Trauma is a slow burn movie, the kind which gradually pulls you deeper and deeper into its own twisted reality. The story is simple, but the execution is far from it. Weiler takes the basic narrative and runs a series of ambiguous circles around it, coiling tighter and tighter until the end. Like the giant hedge maze in Stanley Kubrick's The Shining…"
- POP MATTERS
"There's no doubt that "Head Trauma" isn't just one of the greatest films of 2006, I would also put it up there with the best films that have been made this decade in horror."
- BLOODTYPE ONLINE
"I'm giving this film my first ever 10 and have to say the hopes and dreams of the great American horror are now on Weiler's shoulders."
- CINEPHELIA.COM
"With his second outing, Weiler proves himself a seriously skilled director. His tone has much in common with the recent spate of Japanese horror films. There's the emphasis on atmosphere, the sad, restless ghosts of the past, the jittery camerawork. It's a wonder Hollywood hasn't snapped him up to helm one of the countless J-horror remakes taking place stateside (The Ring, The Grudge, Pulse). It's almost depressing to think what Weiler could have done with the recent revision of Kiyoshi Kurosawa's 2001 chiller Pulse."
- THE ALIBI
"HEAD TRAUMA will leave you scratching yours in the midst of a fantastic, scary ride that leaves no unanswered questions and does its job with the utmost competence and sheer unalloyed glee."4 stars
- FILM THREAT
"Works its way under the skin, raising neck hairs while teasing us to pry open its psychological puzzle box."
- LA WEEKLY
"The growling, hooded figure which dogs George through the story is an absolutely terrifying apparition, perhaps the simplest and most haunting monster to grace a movie screen since the debut of Freddy Krueger in the original "A Nightmare On Elm Street."
- BLOODY DISGUSTING
"One of this year's touchstones… Demonstrating once again that ingenuity and invention are more important than millions of dollars in budget, Weiler most effectively works within the confines of the dark house. As more and more unsettling things start to happen, it's almost as though the house were growing into a full-fledged, recently awakened character that is not sure what it wants to do when it sees that it's under attack… Head Trauma creeped me out."
- TWITCHFILM.NET
"A slick, original, attention-grabbing feature… pushes the medium to the edge of its artistic bounds."
- ALBUQUERQUE WEEKLY
"Horror outing that revives the under appreciated monster of the id to great effect."
- MOVIE CITY NEWS
"You know the ones: Jacob's Ladder, 12 Monkeys, even Lost Highway. Head Trauma is a solid induction into these halls of creepy mindfucks."
- THE PORTLAND MERCURY
"Elicits effective creeps. A well executed haunted house exercise that treads the psychological vs. supernatural line."
- AIN'T IT COOL NEWS
"Incredibly creepy… good re-creation of 70′s horror."
-TUCSON WEEKLY
"Fright classic… surprisingly effective chiller."
- THE OREGONIAN
"HEAD TRAUMA is completely pro. From packaging to film quality to the movie's website, it seems like there was big money behind this film."
- LOCAL IQ